Fizz House
Optimise your restaurant's operational hours online with Google My Business - Adapting to COVID-19
The current landscape for businesses operating within the food and beverage industry have no doubt gone through a tremendous amount of change in recent times. With cities implementing varying degrees of social distancing and lockdown methods, hospitality businesses must ensure they pivot and quickly adapt their operations to the changing times.
Ensuring your operating times reflect the changes happening to your business is absolutely imperative to maintaining your brands authority and keeping your customers informed. Outside your regular operating hours, you might have new times for happy hour, takeaway & deliveries, or perhaps even special hours just for your senior customers.
Google has recently added a new feature called 'special hours' to your Google My Business profile. In this post, we'll run you through the differences between 'normal hours', 'more hours' and 'special hours' on Google My Business and when you should be using each.
Normal Hours
These are your regular operating hours and should be updated when and if these change for your venue.
Special Hours
When scheduling special hours, note that your regular hours will not change. These hours are in addition to your regular, operational times and can only be added if you've already provided regular hours. When applicable, you should schedule special hours for your business for things like:
Special events

Holidays

If you're business is temporarily closed for a short period of time (eg: 2 weeks)
More Hours
You should use the 'more hours' feature of Google My Business if your venue provides specific services which are outside your regular operations. Use more hours for things like:
Delivery operational times

Seniors hours

Happy Hours

Take-away or Pick-up times (even if they run inline with your regular hours, these should be added separately).
To access 'more hours', simply sign in to Google My Business and open the location you're editing.
Navigate to the 'info' tab.

Next to 'more hours' click edit.

Click 'add hours' in the 'more hours' box and select the type of hours that apply to your venue.

Enter in the times and the days of the weeks then click 'apply'.
Once added, Google My Business and your listing on Google Maps will be updated. This is what it will look like to a customer searching your venue on Google: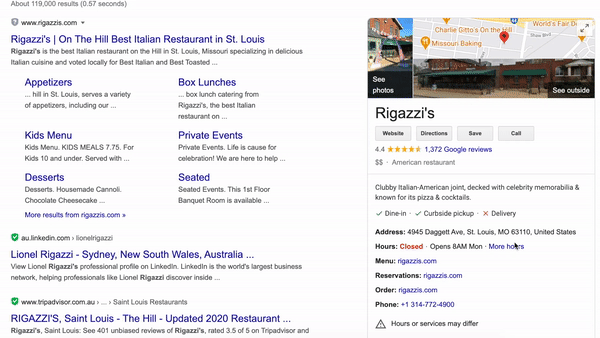 Updating you businesses details in your Google Business listing is important in maintaining a positive customer journey. Make sure that you have someone in your team responsible for reflecting any changes to your business in the online space. Keeping this up on a regular basis only takes a few minutes out of your day and ensures a well-informed, happy customer.
Need help setting up or optimising your My Business listing with Google? Get in touch - we'll take the hassle out of your hands.